If you had never heard them before, the noise would be enough to drive you a little nutty, I imagine.
When walking outdoors on a summer evening, I find I often have to raise my voice a notch or two to be heard above their infernal racket.
If something happened to cause them to suddenly fall silent, most of us would be suspicious and alarmed… on edge like the dogs who can sense the approach of a storm.
And yet, they are as natural a part of summer as swimming pools, sunburns, and watermelon.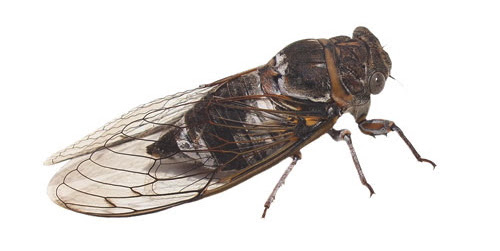 Of course I am talking about the beloved cicada bug.  Wikipedia tells me that only the male cicada makes the noise we commonly associate with cicadas. It is apparently some kind of a demonic courtship call, perfectly designed to drive female cicadas wild.
It also says that cicadas traditionally favor the warmer weather parts of the country. I take that to mean it is entirely possible that there are places you could travel to and not ever hear one. Hmmmm. Might be good to look into that a little more.
And as annoying as I find them personally (maybe you don't… sorry!), it would just not be summer without them. In fact, our dog Molly loves to look for dead cicadas on the ground when we walk her in the morning. She sniffs for them, finds them, and then snarfs them down, crunching with relish on their fibrous black bodies.
I think that one of the most amazing parts of the cicada story is the story of their lifespan. Many species apparently live underground as nymphs for between 13 and 17 years. Then they emerge from the ground, sing non-stop as loudly as they can, mate, and then die 24-48 hours later.
The life of the cicada is very short, but very passionate.
Of course, if you put it in the context of the entire scope of the universe and all of history, you would have to say that human lives are also very short. 70… 80… 90 years – whatever we are granted by God – is really no more than a tiny blip on eternity's radar screen.
Short, yes. But can we also call our lives passionate?
The dictionary defines passion as: "…an intense desire or enthusiasm for something." You can be passionate about gardening… passionate about your alma mater or your hometown baseball team…  passionate about a hobby or vacation destination, a particular food dish, or just about anything. My dad is passionate about stamp and coin collecting.
But of how many of us will it be said as we are being remembered and eulogized, "… she/he really lived a passionate life."?
John 10:10 reminds us that Jesus said, "I came that they might have life and have it abundantly." In a similar vein, the patristic church father, Ireneaus, (who lived and wrote in the 300s) is quoted as saying, "The glory of God is man [or woman] fully alive."
All of us… young or old, good health or ill, male, female, rich, poor, black, white, Asian, Republican or Democrat… are called to gratefully live this one amazing life God has given us, right up to the very end… to "drink deeply" from the springs of Life.
The joy of the follower of Jesus Christ is the promise that we will be received at the end of that passionate passage by the extended hand of our Lord and Savior and the words, "Well done, good and faithful servant."
Hallelujah! AMEN!